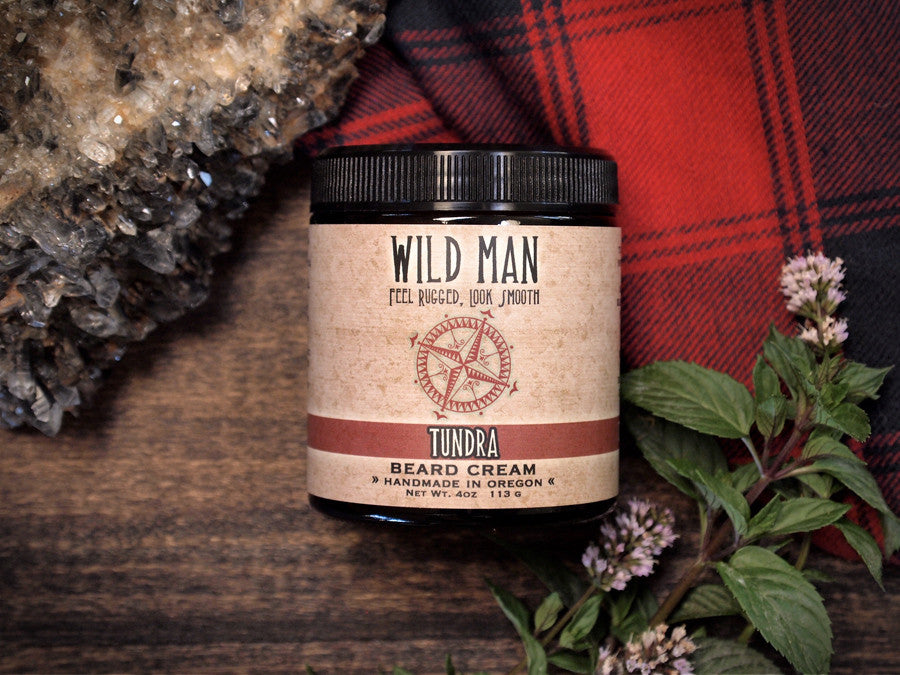 Whether you're considering extending your first No-Shave November to 2017, or your facial hair is older than your first-born child, Winter weather can be hard on your beard. But, with a little extra attention and help from Wild Man, your Winter beard can be the envy of Santa Claus himself!
The secret to a healthy beard is maintaining healthy skin beneath the beard. Healthy skin requires washing with a beard and facial cleanser to remove dirt, bacteria and dead skin.
Our Wild Man Beard Wash is an all-natural, highly concentrated liquid soap formulated especially for the beard and face. This rosemary-rich formula gently cleanses and softens the beard, removes flaky skin and unclogs pores to promote thick and healthy beard growth. Our unique therapeutic grade essential oil blends naturally condition hair and act as an aromatherapy aid with a subtle, beard-appropriate scent. Use just a few drops to lather a wet beard down to the roots for best results.
Those with oily skin - characterized by a shiny, thick beard and tendency to break out - will benefit greatly from using the Beard Wash alone. This will help regulate your skin's oil production for less breakouts and softer, lighter-feeling beard. Some use Beard Wash daily, others a few times per week.
Many beard-growers need a little extra moisture, especially during the Winter months. After washing, we suggest using our Wild Man Beard Oil Conditioner to hydrate and protect the skin and beard.
Wild Man Beard Oil Conditioner is a highly absorbent, moisturizing and lightweight oil ideal for the daily maintenance of the skin and beard. This concentrated leave-in conditioner is designed to hydrate skin, soften facial hair and reduce itching/irritation. Formulated with pure, therapeutic-grade essential oils and botanical extracts in a variety of beard-friendly scents.
Beard Conditioner can be used after washing or throughout the day. Start with just a few drops and massage down to the roots of your beard. Use more as needed depending on beard length and skin type.
Finally, for those with particularly dry skin - characterized by an unruly, wiry beard and itchy, flaky skin - our Wild Man Beard Cream provides the extra care your beard needs. This product is especially recommended for those living in very dry or cold climates (Hi Midwesterners!).
Wild Man Beard Cream is a deep-conditioning beard balm ideal for moisturizing and softening the driest, scratchiest beards. This long-lasting beard balm deeply moisturizes, softens and allows for light styling/shaping of the beard. Beard Cream is best used after washing or at night. It can be used alone or with Beard Conditioner depending on your moisturizing needs. As always, we suggest applying both Beard Cream and beard Conditioner to a fully dry beard. This allows for maximum absorption and prevents bacteria growth that can lead to breakouts.
Again, start with just a small amount of Beard Cream and massage down to the roots. Use more as needed. Wild Man products are designed to be versatile depending on your beard's needs. Do what feels right for you and your beard!
Winter beard care doesn't have to be a struggle. With a little extra attention and the right products, your beard will thrive despite the weather.
Save
Save
Save