Borage has long been celebrated as a simple tonic for happines and courage. Their petite, yet beautiful blue flowers are a reminder that joy is found in the most minute details of life. Borage is excessively simple to grow and will spread happiness wherever you let it.
Uses:
Traditionally, borage flowers were added to wine to "drive away all sadness, dullness and melancholy." They were also candied or made into syrup for this same purpose. The young leaves have a sight cucumber taste and can be added to salads, although their hairy teture can take some getting used to. The herb itself is said to be a mild anti-inflammatory and diuretic. It is often used externally to treat inflamed skin, or as a mouthwash or gargle. There is some evidence that suggest Borage may contain an alkaloid that can cause liver damage, so it is probably best to avoid prolonged use. I'm a big fan of
homebrew soda-making
, and borage flowers are as necessary as a slice of lemon in my ginger ale.
Borage is grown commercially primarily for Borage Seed Oil, a hormone-rich substitute for evening primrose oil. This makes a wonderful additive to skin creams and moisturizers.
I use borage seed oil in place of rose hip seed oil in this acne-clearing moisturizer.
How to Grow Borage: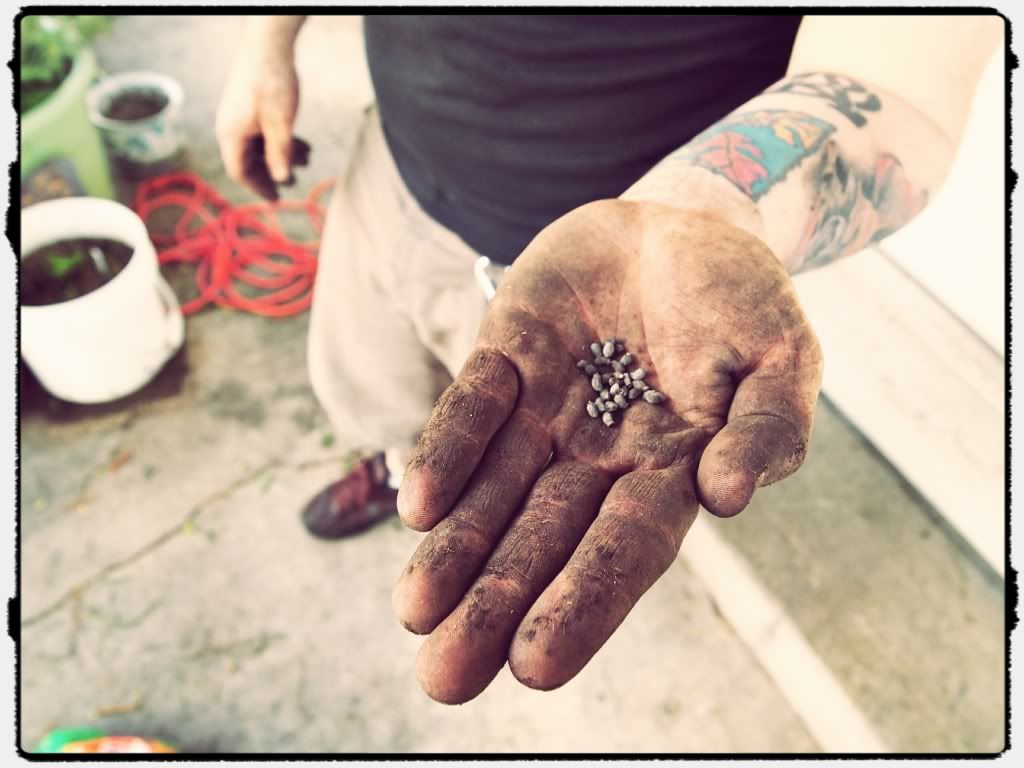 A strong self-seeder, make sure and pick a spot in your garden where you don't mind borage expanding. This herb tolerates any kind of soil, although it will be happier if you plant in moist, rich earth. Borage loves a sunny spot, but will still bloom in a partial shade.
Borage dominated this plastic bin herb garden I planted last year.
Borage grown readily from seed, which can be planted in the spring or fall. Cover seeds in about 1/2" of soil. Borage will appreciate you waiting until a few weeks after the last frost.
Your seeds will germinate in 7-10 days. Borage is very hardy and doesn't need much tending. Mine is occasionally attacked by slugs, but a cedarwood spray has been effective at stopping them so far.